BELLA-SQ – Half the light, twice the impact for the most efficient bollard lighting
Two special "half-beams" with great light control and smooth cutoff for low pole heights.
Bollards are used to illuminate pathways, walkways, and other outdoor areas to ease navigation, improve safety and create a more satisfying atmosphere for recreational purposes. The luminaire designs and their light distributions are usually one-sided or omnidirectional, so they seldomly need "full-beam" optics to fulfil their goal.
How to cut light in half?
With bollards, aesthetics play an important role, as the luminaire design should fit in perfectly with the surrounding architecture and landscape. Projected light should do the same, and complement the area, not halfway, but half-full.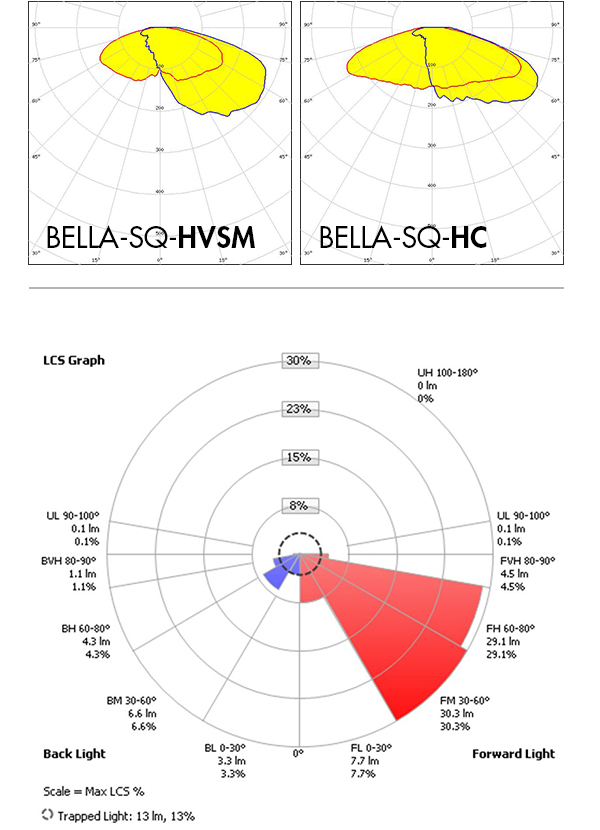 Our new BELLA-SQ led optics with special "half-beams" called HVSM (half-VSM) and HC (half-C) are ideal solutions for the most efficient and uniform bollard lighting.
The HVSM beam is designed for pathway lighting, and the HC to create beautiful ambient lighting. With smooth cut-off and precise light control they shine calm and serene light onto their surroundings and limit unnecessary upward light.
Cutting light might be impossible, but our new BELLA-SQ optics shape light almost as if it was.
Lens features

BELLA-SQ lenses share the same small 25 x 25 mm dimensions as our STRADA-SQ and can be installed with screws or tape. They are compatible with up to 7070 size LED packages so there is plenty of room for efficient lighting power.
See more information on the product pages, the application example, or contact us to learn more.