APPLICATION EXAMPLE
Office meeting room lighting with DAISY
---
For help with an application simulation using our optics, or to make a request about what application you want us to cover next,
contact Tech support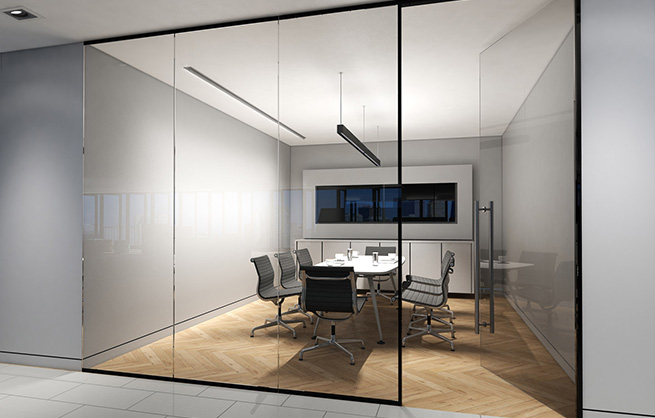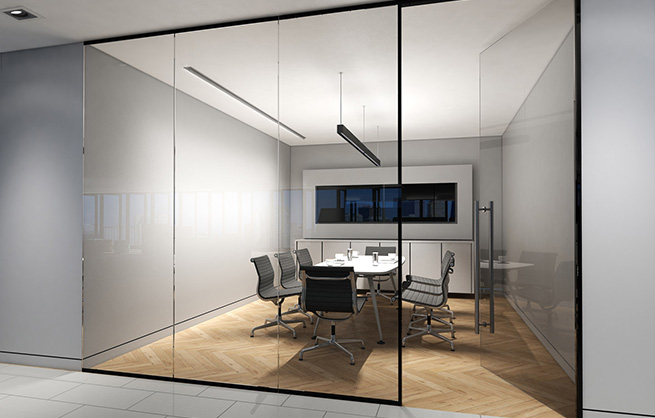 MEETING ROOM LIGHTING
CONTRAST MEETS FUNCTIONALITY
This meeting room is illuminated with one suspended luminaire with uplight and direct downlight together with a linear wall washer luminaire.
Highlighting the other wall and the ceiling will make the room bright and pleasant, while creating contrast and more dimension to the room.
Downlight ensures there is enough light on the desk workplane.
The use of indirect light and discreet direct light makes the space virtually glare free.
SETUP:
Application:
Office lighting
Room height:
2.7 m
Suspended luminaire
 
Optics (Downlight):
DAISY-28X1-WW
Optics (Uplight):
LINNEA-UP
No. of luminaires:
1 pcs
No. of optics (DAISY-28X1-WW):
2 pcs
No. of optics (LINNEA-UP):
2 pcs
Installation method:
Suspended
Luminous flux (luminaire) (Downlight):
8000 lm
Luminous flux (luminaire) (Uplight):
1200 lm
Installation height:
2.1 m
Wall washer
 
Optics:
VANESSA-O
No. of luminaires:
1 pcs
No. of optics:
11 pcs
Luminaire length:
3.3 m
Installation method:
Recessed
Luminous flux (luminaire):
6600 lm
The information contained herein is the property of LEDiL Oy, Joensuunkatu 13, FI-24100 SALO, Finland and is subject to change without notice. Please visit lediloptics.cn for additional information, such as the latest photometric files, 3D mechanical models, and application notes relating to handling, gluing and taping.